Betsy Wates
Love the eye, that Ines has, for bringing out the beauty in everyone! She made me feel beautiful and I enjoyed spending my time with her!
Laurie Kemp
As a mother of two young boys, I find myself constantly chasing after them, getting dirty and never bothering with how I look. Ines Schaefer took the time, care and attention to make me feel special and beautiful. It was such a treat to spend time with Ines and watch the fire in her spirit blaze through her personality and passion. Those lucky enough to work with her are blessed with not only amazing portraits but memories of a lifetime. Thank you Ines! Much Love
Jenny Golding
I thoroughly enjoyed my photo session with Ines.  Through her amazing talent, she managed to break down many barriers and showed me that a small town country girl was beautiful, inside and out. Anyone can take a picture of people smiling, but Ines has the ability to capture the essence of her subject.  She takes the in-between shots that shows the personality and soul of her subject.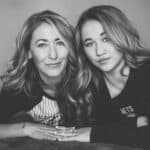 Melissa Kilby Burns
My daughter and I recently had a photo session with Ines. It was such a fun mother/daughter day together! Ines spent quality time capturing the perfect moments and now we have beautiful pictures and memories that will last a lifetime. We absolutely loved our photo session with Ines!
Caryn Kyzer with Caylin & Jim
Executive President Team Member at Herbalife International
What an amazing experience with Ines!! I must say it was a day my family and I will cherish FOREVER! My daughter and I had a glamour session and let me tell you....what a pampering treat!! We had an AMAZING hair and makeup ARTIST ( Kaitlin Eaton) that took wonderful care of us! And Ines is a MASTER behind the camera. It was a fun, easy, comfortable, inspiring... Not enough words to describe. And Ines let my husband sneak in at the end of the session and we have some PRICELESS family portraits too! Thank you Ines!